Southern Sweden Design Days in Malmö 19 May - 22 May 2022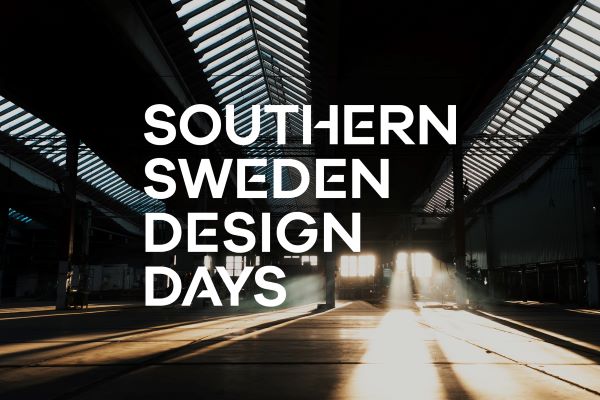 The School of Architecture has for many years participated in the Degree Exhibitions at the Form Design Center in Malmö.
New for 2022 is that we will join the Southern Sweden Design Days 19/5 - 22/5
PROXIMITY + DISTANCE = ARCHITECTURE
Architecture deals primarily with the qualities of the everyday spaces in which our lives take place. Architecture can also be about larger issues, which connect places, people and thoughts over great distances.
Architecture appears in the interactions and entanglements of different scales. The large scale gives an overview. The small scale creates proximity. Connections between different scales is a fundamental architectural aspect. Moving between different scales, questions and methods during a creative process is a necessity in order to integrate the notions of overview, closeness, intimacy and presence.
The exhibition presents a selection of student projects from three different courses in the fourth and fifth years at the School of Architecture in Lund. They show examples of how to approach different spatial contexts from different angles by examining and exploring the tensions and the connections between the whole and the detail.
ARCHITECTURE IN MATERIAL AND DETAIL
Students from the course Architecture in Material and Detail 1 exhibit their research work in models and posters, investigating spatial and tectonic aspects in some highly recognised buildings. The course provides in depth architectural knowledge, regarding architecture as a dialogue between building design, material properties and structural concepts. The students have explored these tectonic aspects of space through a body of construction and materials, together with symbolic, cultural and spatial perspectives. Jesper Magnusson (course coordinator/tutor) & Bernt Nilsson (tutor).
ADVANCED ARCHITECTURAL DESIGN
The Advanced Architectural Design courses (AAD) tackle the most fundamental circumstances, phenomena and challenges in architecture and urban planning, from both theoretical, methodological and artistic design perspectives. The students are trained in theoretical, conceptual and methodological skills to be able to meet new and to some extent unexpected tasks and challenges, of both a design and non-design nature. This approach means that the programme is clearly rooted in the most obvious areas of interest in architectural practice, while at the same time being both specific and unique in its approach to the subject field of architecture and to the profession. PEOPLE'S VOICE PAVILION - is an AAD studio competition created in collaboration with Helsingborg City Planning Administration, OBOS, Tengbom Architects, with the ambition of showcasing and reinforcing the H22-A Smarter City message of equality. Exhibited you see the winners of the competition including the pavilion that now is build and will be part of the H22-A Smarter City Expo. "Andreea Marcu and Maria Rasmussen (course coordinator & Alex van der Beld, Christer Malmström (collaborators).
THE MASTER THESIS
The final course in the school of Architecture before applying for a professional degree is the master thesis. It can take many different shapes and forms ranging from a written essay, a building design or a planning proposal. At this level students are expected to work independently and to explore a question completely selected by themselves. The master thesis should integrate complexity, creativity, communications skills and the ability to partake in relevant discourses. Paulina Prieto de la Fuente (course coordinator).
Exhibition design and building made by My Zetterquist Helger Sophia Sundqvist
In collaboration with Nina Falk Aronsen, Paulina Prieto de la Fuente, Helene Sveningsson and Göran Nilsson from School of Architecture, Lund University
Proximity + Distance = Architecture
Architecture is a spatial matter and deals primarily with the qualities in and of the everyday spaces where our lives play out/ take place. This exhibition aims at showing multiple and diverse ways of addressing the notion of proximity in architecture via student projects from the school of architecture at Lund University. In Lund the students are presented with different ways of investigating, developing and designing sustainable spatial contexts for human life; rooms and places that open up possibilities for creative and inspiring conditions for everyone - locally and globally
Projects from Advanced Architectural Design
People´s Voice Alexander Johnsson, Alve Stenlund and Kristina Striewe
Unused – Reused Leonard Florian Anton, Max Strömberg Bååth and Emaelaf Tebikew Yalew
Aperture Hampus Jonason Bjärenstam and Manuel de Jesus Fernandes
Sign in Sara Badalinezhad and Amir Ebrahimian
Degree projects
Ella Kadefors – Arkitektur som Serie: att förstå Emilstorp och blandstaden
Maria Tuvelius – Ensamhet i Staden
Josefin Axén – Territorially performative courtyards – and its social value in the city
Sara Modig – Den samtida dalagården
Ellen Fällström – Lära av Lanthöjden – Om att bygga med landsbygdens attraktionskraft
Victoria Restrepo – Where do Children learn?
Nada Dhaiba – Urban Farming
Parto Jahangiri – Neighborhood as a Living Organism Looking at Territories-In-Between Rural and Urban, Brunnshög Lund
Axel Hansson – Coastal City of Malmö
Architecture in Material and Detail
Edward Cullinan/ 62 Camden Mews Tobias Allard & Sara Badalinezhad
Le Corbusier/ Maisons Jaoul Samuel Fagerberg & Nora Huglen
Enric Miralles/ Parliament of ScotlandEira Hultman, Rapahel Börlin & Tianli Wang
Louis Kahn/ Kimbell Museum Julia Mattsson, Alva Stenlund & Qingling Wang
Charles Moore et al/ Sea Ranch Condminium 1 Unni Mattsson & Amir Ebrahimian
Coordinator: Helene Sveningsson
E-mail: helene.sveningsson@abm.lth.se